How AnyCount make a Word Count, Character Count, Page Count and Line Count for

P

DF

Files
Installation of Adobe Acrobat Reader for character count, line count, and word count in PDF documents is no longer necessary. AnyCount can perform text counts in PDFs in a self-sufficient way.
For example, let's select this PDF file for the word count.
Choose the settings for the format before counting: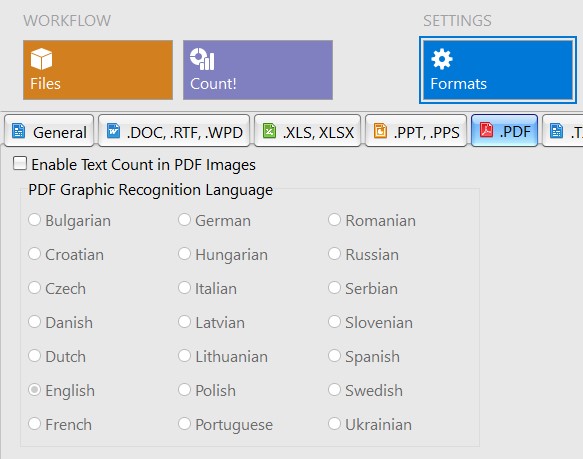 In this window, you can choose "Enable text count in PDF images" and select language.
AnyCount results:
counting characters with spaces

counting characters without spaces




When word counting of PDF files is completed, you can:
view the outcome of the counting process on the screen;
print count results of the PDF file;
export Portable Document Format word count results to TXT format;
export letter count results of the PDF file to Comma-Separated Text / Tab-Separated Text (CSV Format);
export PDF character count results to HTML format;
export character count results of PDF file to MS Word format;
export PDF page count results to MS Excel format;
export page count results of PDF file to RTF format;
copy symbol count results of PDF file to the clipboard.
If you want to export PDF your results to a different format, just write to us and we will try to help you! 😉