How AnyCount make a Word Count, Character Count, Page Count and Line Count for

MIF

Files
Installation of Adobe FrameMaker for character count or line count in MIF documents is no longer necessary. AnyCount can perform text counts in MIFs in a self-sufficient way.
For example, let's select this MIF file for the word count.
Choose the settings for the format before counting: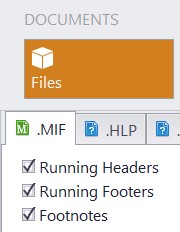 AnyCount results:
counting characters with spaces

counting characters without spaces



When counting process of MIF files is completed, you can:
view MIF word count results on the screen;
print count results of the MIF file;
export Maker Interchange Format word count results to TXT format;
export letter count results of the MIF file to Comma-Separated Text / Tab-Separated Text (CSV Format);
export MIF character count results to HTML format;
export character count results of MIF file to MS Word format;
export your results to MS Excel format;
export page count results of MIF file to RTF format;
copy symbol count results of the MIF file to the clipboard.
If you want to export MIF word count results to a different format, just write to us and we will try to help you!